Bathroom Cleaner L.O.C.™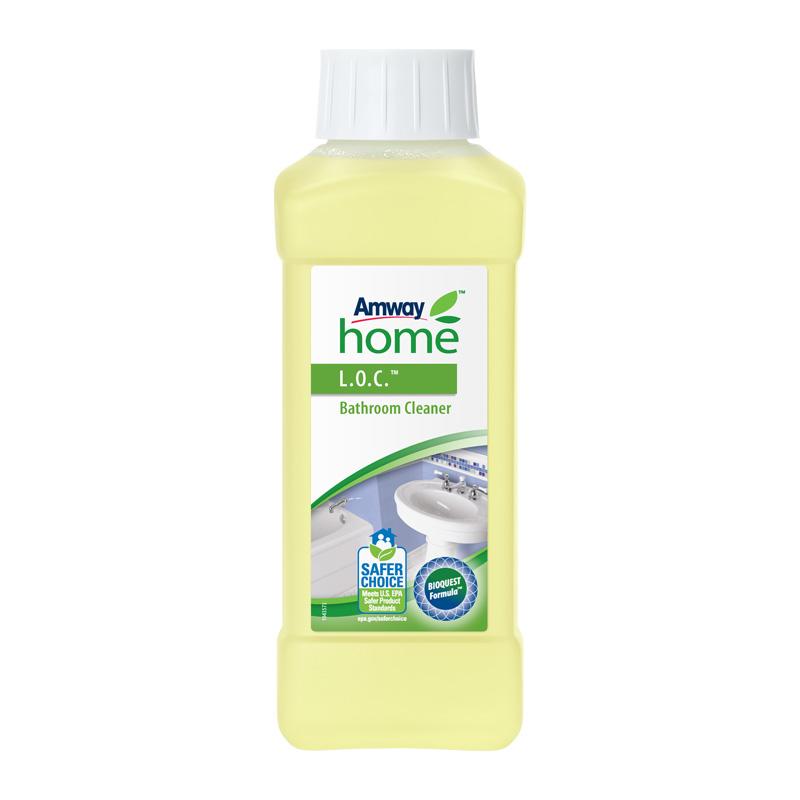 For gentle cleaning with no compromising on power, L.O.C.™ Bathroom Cleaner easily removes hard water stains and limescale without scratching. Your bathroom is left hygienically clean and shiny - no scrubbing required!
Amway Home's plastic containers are Recyclable Plastic 2 – HDPE (High Density Polyethylene).
 The concentrated formula dissolves soap scum with no scrubbing for an effortless shine 
L.O.C.™ Bathroom Cleaner rinses away easily, leaving a streak-free surface 
It contains citric acid derived from renewable sources 
Each 500 ml bottle produces the equivalent of 4 spray bottles It's safe to use on most washable bathroom surfaces including ceramic tiles and plastic. 
Suggested Usage

 L.O.C.™ Bathroom Cleaner can be used on ceramic tiles, fibreglass, porcelain, stainless steel, plastics and vinyl. 
Do not use on marble, natural stone or brass. 
For general bathroom use, use the AMWAY™ Pistol Grip Sprayer Bottle and add 375 ml of water to the 3:1 line, topping up with bathroom cleaner to the 500 ml line. 
Spray surface and wipe or rinse off with a damp cloth. For hard water deposits like limescale, use the solution 1:1. Spray and leave for several minutes before rinsing off. After diluting Amway Home Bathroom Cleaner in the Amway Home pistol-grip sprayer bottle, use within 30 days or discard the solution. Always empty and thoroughly rinse the bottle and sprayer before refilling. 
When using L.O.C.™ Bathroom Cleaner with L.O.C.™ Wipes, add 3.5 capfuls of concentrate to water.
Size 500ml 

Delivery at check out: 
 "Click & Collect" from 

our Hampshire Showroom located at 6A Redhill Farm, Red Hill, Medstead, GU34 5EE, UK - in the first dropdown box choose change the "United Kingdom" option to "Click & Collection", and then proceed to the next step. 

Or leave the "United Kingdom" option and add your post code to the second box, before clicking on "Validate Postcode" to choose your shipping option based to proceed to the next step