Happy New Year from Hampshire Furniture
2nd January 2019
Happy New Year from Hampshire Furniture. With the arrival of the New Year, we all set about making goals and resolutions for the coming months. Our latest blog post is dedicated to giving your home a detox this January, organising and de-cluttering the space, but what about a makeover?
Creating a new look for your home can be as simple as rearranging a few trinkets or it can involve an entire overhaul with paint and brand new furniture. January is the time when we think about fresh starts, new perspectives and opening our minds to new ways of thinking. We may decide to take on a hobby, learn a language or lose weight, all of which are fantastic goals, but refreshing the aesthetic of your home can be extremely rewarding too, physically and mentally.
Rearranging the furniture and decor in your home can change the space completely. It can create a different look, a new feel and atmosphere and offer up more - or less - space. I recently transformed my entire living room, simply by changing the layout of the furniture. Since doing this I have created a much more appealing, cohesive and fluid space. By dividing it into a clear living space and home office with no intrusion from either side and I've received many compliments. It didn't cost me a single penny to do this, but it gave my house a new lease of life and the fresh arrangement has inspired all sorts of beautiful decor ideas.
If you love the arrangement of your space exactly as it is, you could consider switching out some of the current art and ornaments with new pieces. If you "shop local" you can have hundreds of beautiful, reasonably priced original artworks or even mirrors in a variety of forms. You could make your own artwork; fabric in wonderful patterns stretched over canvases and secured with staples at the back create a striking look. Family photographs are an endlessly charming way to brighten any space, and you can alternate the photographs or change the frames to create a new look. Simple, effortless changes can make a world of difference to your space and help you see things in a new way.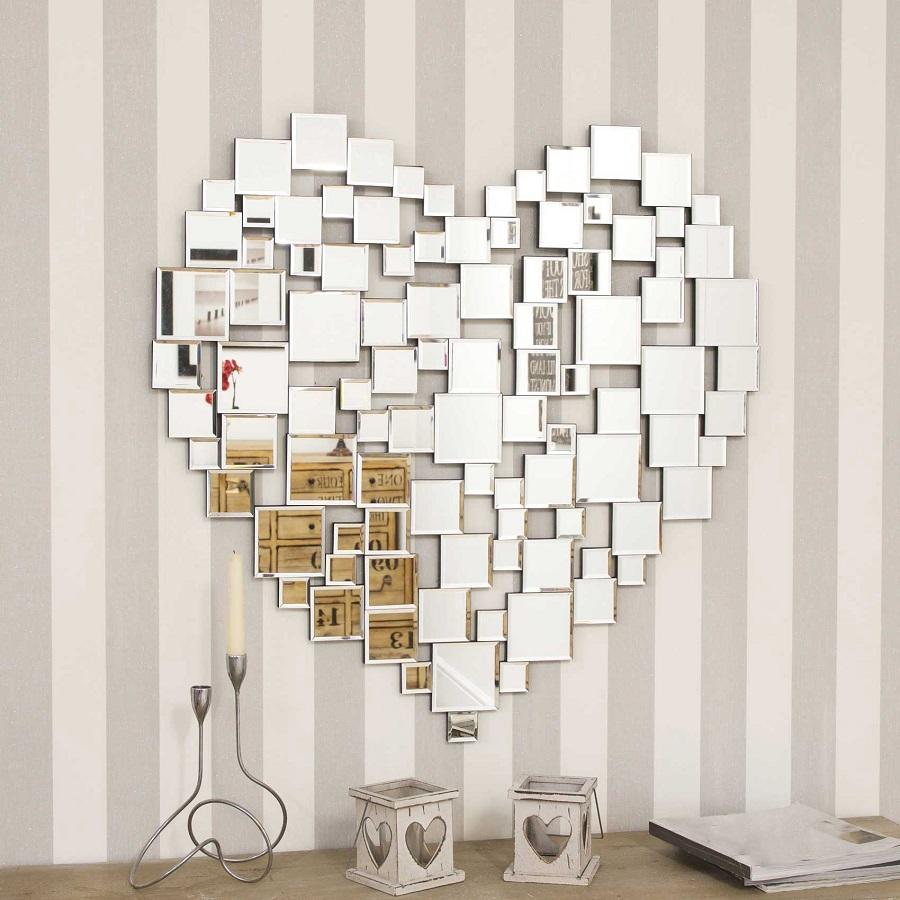 Valentine Mirror 80x 80cm
If you've been waiting several months to buy a new piece of furniture that you need or want, now's a good time to take the plunge (especially with 10% off until the end of January). At Hampshire Furniture we have hundreds of pieces in many diverse styles, so you're sure to find something to suit your interior design scheme. If your shoes are out of control, or you want to create a more useful hallway or a breakfast table is more practical than a large dining table – Between our three websites, we've got it covered with furniture for every room in the house and for every use possible.
Of course, for some of you, a dramatic overhaul is in order. Perhaps you haven't updated your home in years, you've found yourself living with a secret hoarder or you simply fancy a big change. Clearing out and organising the clutter is a fantastic place to start. Freshening the walls with paint or wallpaper in an entirely new colour scheme is a brave choice but can be enormously rewarding. Or perhaps you would like to clear it all out, strip it all back and embrace a minimalist lifestyle for a while.
If treating your home to a little DIY TLC isn't one of your New Year's Resolutions, why not? It's a long-lasting, extremely rewarding and achievable goal that can be as simple or as complex as you make it.
What will you be transforming during this year?