Kitchen Cleaner L.O.C.™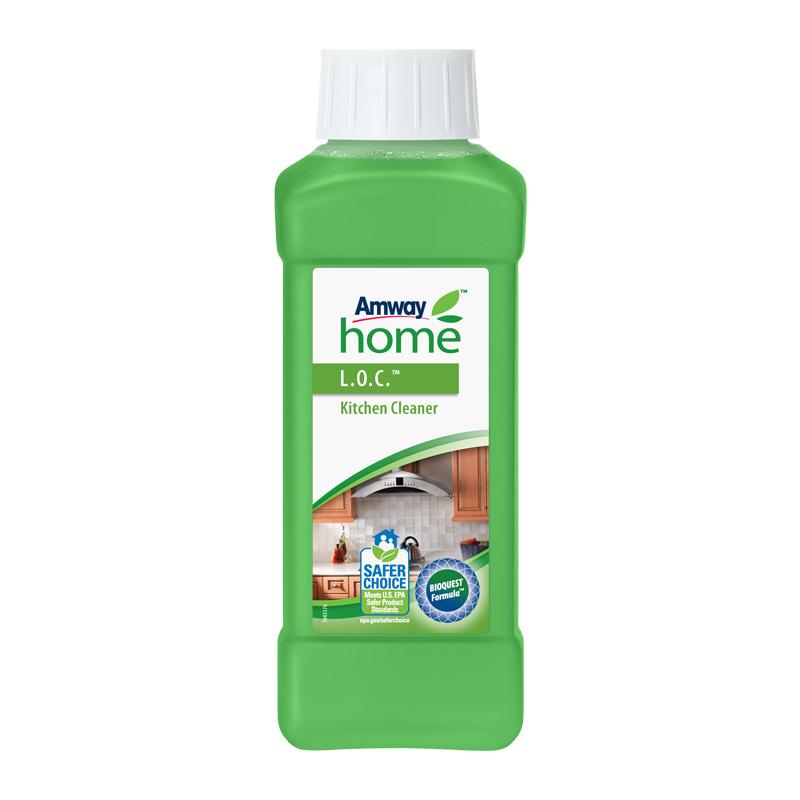 With a powerful cleaning action that cuts through the toughest grease and grime effortlessly, L.O.C.™ Kitchen Cleaner leaves your kitchen hygienic and clean. The concentrated formula is real value for money – a 500 ml bottle produces the equivalent of 4 spray bottles.
Amway Home's plastic containers are Recyclable Plastic 2 – HDPE (High Density Polyethylene).
L.O.C.™ Kitchen Cleaner de-greases surfaces and powers away even the toughest grime

The light citrus fragrance contains essential oils to leave your kitchen smelling fresh

It contains no phosphates, harsh acids/alkalis or chlorine bleach – so no harmful fumes

Our 'powerfully different' kitchen cleaner will deodorise and refresh your kitchen surfaces, leaving them hygienically clean. 
Suggested Usage
L.O.C.™ Kitchen Cleaner is safe to use on all sealed, washable surfaces, such as worktops, cooker hobs, domestic appliances, sinks and fridges. 
Using the AMWAY™ Pistol Grip Sprayer Bottle, add 375 ml of water to the 3:1 line, topping up with kitchen cleaner to the 500 ml line

Spray the surfaces and wipe dry

For extra tough grime, use the solution 1:1.

After diluting Amway Home Kitchen Cleaner in the Amway Home pistol-grip sprayer bottle, use within 30 days or discard the solution. Always empty and thoroughly rinse the bottle and sprayer before refilling.  
If you're using L.O.C.™ Kitchen Cleaner with L.O.C.™ Wipes, add 3.5 capfuls of concentrate to water
Size: 500 ml
Delivery options:  Click & Collect is available from our Medstead Shop or based on order "shipping" weight added at step 1 of check-out.