Kitchen Cleaner L.O.C.™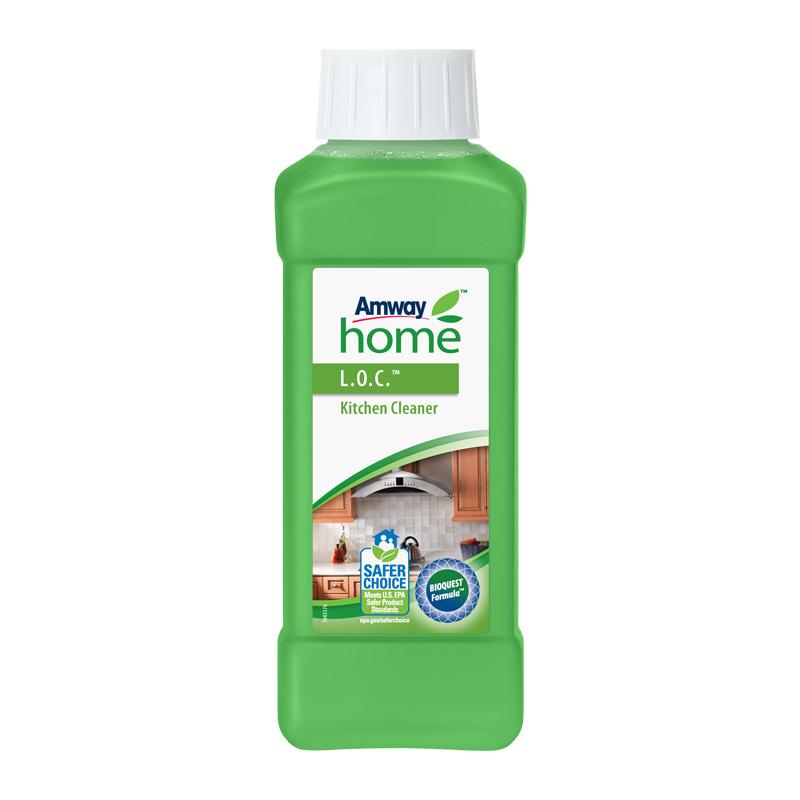 With a powerful cleaning action that cuts through the toughest grease and grime effortlessly, L.O.C.™ Kitchen Cleaner leaves your kitchen hygienic and clean. The concentrated formula is real value for money – a 500 ml bottle produces the equivalent of 4 spray bottles.
Amway Home's plastic containers are Recyclable Plastic 2 – HDPE (High Density Polyethylene).
L.O.C.™ Kitchen Cleaner de-greases surfaces and powers away even the toughest grime

The light citrus fragrance contains essential oils to leave your kitchen smelling fresh

It contains no phosphates, harsh acids/alkalis or chlorine bleach – so no harmful fumes

Our 'powerfully different' kitchen cleaner will deodorise and refresh your kitchen surfaces, leaving them hygienically clean. 
Suggested Usage
L.O.C.™ Kitchen Cleaner is safe to use on all sealed, washable surfaces, such as worktops, cooker hobs, domestic appliances, sinks and fridges. 
Using the AMWAY™ Pistol Grip Sprayer Bottle, add 375 ml of water to the 3:1 line, topping up with kitchen cleaner to the 500 ml line

Spray the surfaces and wipe dry

For extra tough grime, use the solution 1:1.

After diluting Amway Home Kitchen Cleaner in the Amway Home pistol-grip sprayer bottle, use within 30 days or discard the solution. Always empty and thoroughly rinse the bottle and sprayer before refilling.  
If you're using L.O.C.™ Kitchen Cleaner with L.O.C.™ Wipes, add 3.5 capfuls of concentrate to water
Size: 500 ml
Delivery at check out: 
 "Click & Collect" from 

our Hampshire Showroom located at 6A Redhill Farm, Red Hill, Medstead, GU34 5EE, UK - in the first dropdown box choose change the "United Kingdom" option to "Click & Collection", and then proceed to the next step. 

Or leave the "United Kingdom" option and add your post code to the second box, before clicking on "Validate Postcode" to choose your shipping option based to proceed to the next step
.