Multi-Purpose Cleaner L.O.C.™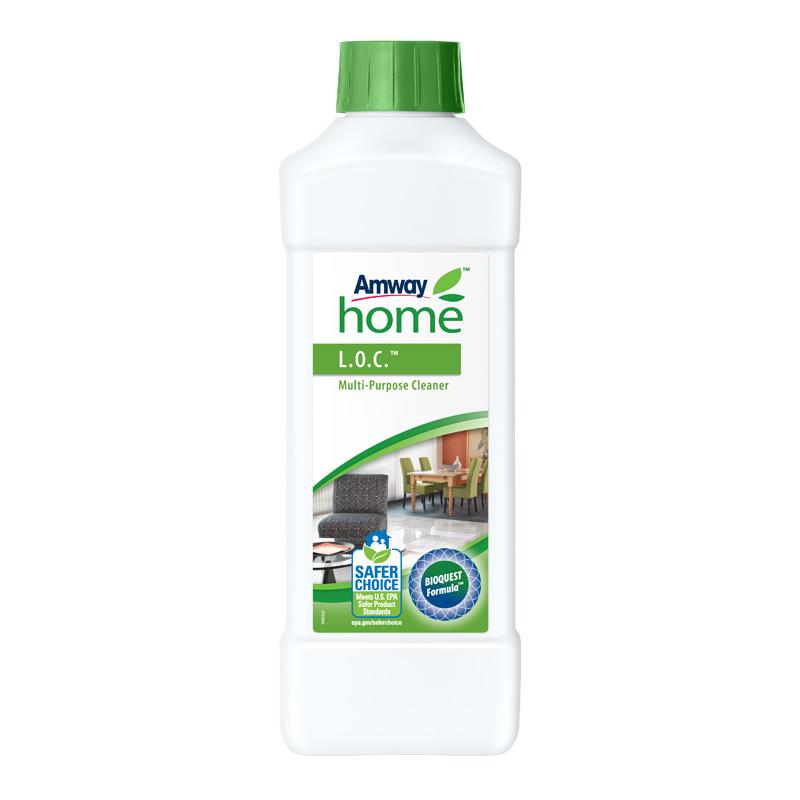 We are excited to share with you the news that Amway Home™ L.O.C.™ Multi-Purpose Cleaner is the first biodegradable industrially manufactured household cleaner
L.O.C. Multi-Purpose Cleaner cuts through all types of dirt, soil build-up and grime and doesn't leave harsh residues.
Amway Home's plastic containers are Recyclable Plastic 2 – HDPE (High Density Polyethylene).

What It Does For You
Cleans effectively, cutting through all kinds of dirt, soil build-up and grime and leaving a streak-free, shiny finish, meaning you don't have to rinse.
Leaves your home feeling clean, naturally fresh and safe, thanks to its naturally derived-yet-powerful cleaning ingredients.
Makes household cleaning easier, thanks to its multi-purpose formula and versatility.
Will leave no harmful residue because it contains no phosphates, harsh acids or chlorine bleach and is completely biodegradable.
Why You Would Like It: If you want your home to be spotless and safe for you and your family, then L.O.C. Multi-Purpose Cleaner is a cleaning supply for you. This all purpose cleaner effectively and economically cuts through dirt, soil build-up and grime on all washable surfaces. Yet thanks to its concentration of natural ingredients and the rejection of harsh and harmful chemicals, it's gentle enough to use on skin and leaves no harsh or toxic residues. Effective, versatile, gentle and kind to the environment – is it any wonder natural cleaning product Multi-Purpose Cleaner has been used and trusted by families around the world for more than half a century?        
This versatile cleaning product is safe to use on all washable surfaces. If water won't hurt it, L.O.C. Multi-Purpose Cleaner will clean it!
It uses naturally derived cleaning ingredients from plants and minerals, including coconut oil and salt

It's gentle enough to clean hands, yet powerful on dirt and grime

L.O.C. Multi-Purpose Cleaner now has a higher active, renewable sourced surfactant instead of a petroleum based one

The clean, fresh fragrance contains essential oils

It leaves no harmful residue

The entire formula is biodegradable.
Suggested Usage

L.O.C. Multi-Purpose Cleaner can be used on baths, toilets, glazed tiles, sinks, showers and marble. Also safe to use on cookers, counter tops, washable walls, doorknobs, telephones, waste bins and painted woodwork.
For general cleaning, add 30 ml of L.O.C. Multi-Purpose Cleaner to 5 litres of water in a bucket. Wash down the surfaces and dry as appropriate. No need to rinse!
For spray cleaning, use the AMWAY Pistol Grip Sprayer bottle and add 450 ml of water to the 9:1 line. Top up with Multi-Purpose Cleaner to the 500 ml line. Then just spray surfaces and wipe dry.
As a hand cleaner, use undiluted and rinse hands after use.

After diluting Amway Home L.O.C. Multipurpose Cleaner in the Amway Home pistol-grip sprayer bottle, use within 30 days or discard the solution. Always empty and thoroughly rinse the bottle and sprayer before refilling.
Size: 1 litre
Delivery at check out: 
 "Click & Collect" from 

our Hampshire Showroom located at 6A Redhill Farm, Red Hill, Medstead, GU34 5EE, UK - in the first dropdown box choose change the "United Kingdom" option to "Click & Collection", and then proceed to the next step. 

Or leave the "United Kingdom" option and add your post code to the second box, before clicking on "Validate Postcode" to choose your shipping option based to proceed to the next step